Mig Welder Electro 215al Inc Trolley (S00292)
$2,499.00
Description
CODE:
S00292
Model:
MIG 215 AL SYNERGIC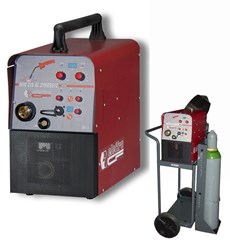 Description:
Thanks to pulse operation and INVERTER technology, enabling to achieve ideal control of welding variables, this synergic single-phase power source is particularly suitable for MIG-MAG welding of materials generally known as "difficult", such as aluminium and galvanised sheet iron, as well as carbon steel and stainless steel.
It has a manual/synergic control panel with memory-stored curves and electronic adjustment of arc height and inductance ratings, spot-welding times and idle times, which make it extremely easy to use.
Its compact, innovative design, low power consumption, reduced dimensions and weight and high efficiency make it a highly useful and versatile professional tool for a wide range of applications in workshops, car body repair shops, on job-sites and in medium-sized production plants.

MAIN FEATURES
• Exceptionally good arc stability at low amp rating.
• Minimised thermal alteration in the welding seam area even when thin parts are welded, expecially using pulse operation.
• Possibility to use the Push-Pull torch P3KP for welding aluminium with wire of diameters from 0.6 to 1.0 mm.
• Possibility to use special wires as corrosion-proof copper-silicon wire (braze welding) and AlBz8 wire.
• Wide range of memory stored synergic curves representing the most common welding operation conditions; new synergic curves can be afterwards added to the power source memory.
• Synergic operation, that permits controlling the welding conditions through just one variable, all the others being preset and dependent on this.
• Easy to use interface.
• Easy to learn operation also for less skilled welders.
• Highly professional and customisable by more experienced welders.
• It can be used for spot welding by adjusting the working time/idle time with the Intermittent operation function.
• On request, it's available a trolley for the transport.
• On request, it's available a kit allowing the use of 15 kg – 300 mm diameter wire reels.

ADVANTAGES OF SYNERGY
After selecting the type of gas and of weld material and its diameter, by modifying the wire speed (welding current) the power source can automatically adjust all the other welding parameters, facilitating the arc start and stability.

THE P3KP PUSH PULL TORCH
Specially designed for aluminium wire welding, this torch guarantees smooth, safe wire feeding down to a wire diameter of 0.6 mm. It has a highly ergonomic design and limited weight for use in confined spaces and difficult working conditions.
It has an UP-DOWN control for the welder to adjust the welding current directly from the torch also while welding.
TECHNICAL DATA:
Code
S00292
Item
MIG 215 AL SYNERGIC PULSED
Input Voltage
1x230V 50-60Hz
Absorbed power
35% 7,4kVA – 60% 5,9 kVA – 100% 5,4 KVA
MIN-MAX Welding current
15 ÷ 200 A
Duty cycle – 10 MIN CYCLE ACCORDING TO EN 60974-1
35% 200A – 60% 160A – 100% 145A
Stepless regulation
ELECTRONIC
Wire size (solid)
0,6-0,8–(1) FE / 0,6-0,8-1 AL / 0,6–0,8-(1) INOX / 0,8 CuSi3%
Max. wire spool size
Ø 200 mm / 5 kg.
Protection class
IP23
Construction standards
EN 60974 – 1 / EN 60974 – 10
Dimensions
mm 255x440x475h
Weight
21 kg